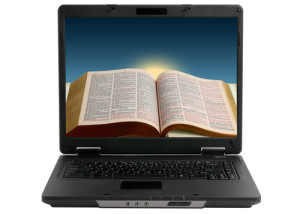 Whether to use a paper or electronic Bible is often a debated and sometimes controversial topic so I was not surprised to hear a Sunday School teacher ardently oppose the use of electronic Bibles in his fourth grade classroom during a recent children's ministry training session. During church worship services, it has become the norm in many churches to see adult church members referencing their electronic Bibles yet using them in the classroom seems to be a much hotter topic.
In my personal opinion, there is a use for both a paper Bible and an electronic Bible in the elementary Sunday School classroom.  I have listed below a few of the reasons/benefits (in no particular order) of using a paper Bible versus an electronic Bible and vice versa. I welcome the thoughts of others for discussion.
Reasons to use a Paper Bible in Children's Sunday School
Carrying a Bible is a testimony to others that the Bible is important and that believers should not be ashamed of God's Word.
A worn Bible is a testimony to others of a godly person.
It is easy to see the context of surrounding scriptures in a glance with a paper Bible.
Paper Bibles are relatively inexpensive.
A paper Bible allows children to remain focused and not be distracted by games and other apps found on electronic devices.
Children can handwrite notes in the margins and highlight important passages in their own Bibles.
It is easy to visually distinguish the Old Testament from New Testament.
The use of a paper Bible reinforces that fact that the Bible is an actual book and not just another electronic book.
Flipping through the pages of an actual book has a different feel to it.
The battery doesn't die on a paper Bible.
An Internet connection is not required for a paper Bible.
Reasons to use an Electronic Bible in Children's Sunday School
Today's kids enjoy using digital devices and are comfortable using digital devices.
 It is easy to compare two different versions parallel to each other with an electronic Bible.
The audible feature of electronic Bibles allows Scripture to be read aloud and difficult words to be pronounced.
The Youversion electronic Bible has hundreds of Bible versions and languages.
Electronic Bibles can be taken with you anywhere on a mobile device.
Online concordances and dictionaries within the electronic Bible allow for easy reference.
Notes can be typed and scripture highlighted electronically for reference later.
A search option is available for finding specific Bible passages quickly.
Books of the Bible can be sorted in alphabetical order.
Bible apps such as the popular Youversion are free.
Video clips of Bible stories are included with the Youversion app.
Two Good Examples of When to Use a Paper Bible
Telling a Bible story to children. With the Bible open to the story and in the teacher's hands, kids realize this is a true story with real people and that it is a special book inspired by God.
Teaching respect and honor for God's Word. Teaching kids to respect a paper Bible by not throwing it around, tearing the pages, etc. is much easier than teaching respect of an electronic Bible.
Two Good Examples of When to Use an Electronic Bible
Teaching about different versions of the Bible and being able to easily compare the versions.
To search for specific passages quickly.
Remember, throughout the ages, Bible media has changed. The Ten Commandments were written on stone.  Jesus read from a scroll written by a scribe. Paper Bibles were produced in mass after the invention of the printing press. In today's digital world, Bibles are available electronically. Even though God's Word has come in many different forms it stays the same throughout the ages……